About Us
REAL BETTING KILLS !!! We know that BETTING thrills, but more often than not drills a hole in our pockets. We knew that everybody from real people – right from a corporate honcho to a rickshaw driver loves to BET. But BETTING, per se, is an ILLEGAL activity in India and there is no avenue/Platform to BET which is LEGAL. Hence, we wanted to create a platform where BETTING in INDIA can be enjoyed as a fun activity in LEGAL way.
This made us bring to life betmockers, where you BETon REAL Events/Matches with LIVE and Near-Real Rates/ODDS involving NO REAL MONEY. You BET with VIRTUAL MONEY so that you get the THRILL of BETTING in the most HARMLESS way and don't lose a penny if you go wrong. You can BET your heart out on the Team/Player/Person you believe will win. If you see that your analysis about winning team/player/person is going wrong, you change your BETS, add more on the opposite side with better rates/odds, as happens in the real betting world.
Your sole objective is to BET and WIN as much as you can with VIRTUAL MONEY and score points (which qualify you for upcoming gifts). Your STRATEGY to BET should be to judge the right team/player/person to win with right combination of rates/odds. The rates/odds keep changing minute to minute, ball to ball, wicket to wicket, goal to goal, situation to situation, action to action, etc. Sounds fun? To top it all up this website is 100% LEGAL and absolutely FREE to Register and USE. Hence, we welcome you to the best of all online betting games for Sports bets or game betting like Cricket, Football, Tennis & much more with virtual money. Here, you bet live with virtual money on Live betting odds based on Live match score and latest news of Cricket , Football , Tennis, etc. Come here to enjoy Fantasy betting with latest betting odds or rates with live score bets also available. So let's get registered and get the Game of BETTING virtually from India started….
People Behind Betmockers.com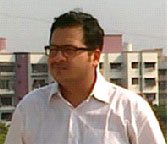 Tabrez M. Shaikh (Founder and CEO-The laughing Buddha who got in the idea & also the moolah for betmockers.com) He originally came up with the concept of providing everybody with a platform to place bets with near real odds or rates with real events of India, real betting calculations, real players but with VIRTUAL MONEY, since betting per se is an ILLEGAL activity in India.
Tejbahadur Singh (The engineer who build the bridge between the Buddha & the website engineers) He formalized the concept.
How it works?
Betting is exciting… the more the merrier. With more we do not mean cash, it only means people strength. With this came the concept of creating groups. Sounds exciting? So lets get registered by creating your profile and let the ball start rolling…..
What's happening…..!
Events…. be it Tendlya's of India's cricket match that's on / Shoaib Akhtar's comments or who will be the Reality Show's next season's winner or should men continue to be Maria Sharapova/Rafael Nadal loyalist or is it time to change loyalties will continue to be a big focus point in our lives. We would therefore showcase the latest events on our website with near real rates/ odds. Virtual money will be allotted per event to our users. Dynamism with every over changing, every wicket lost, every set won or lost, every six hit, etc…… So place your bets wisely to win as much as you can to secure a place in the Hall of Fame amongst the thousands of unknown or unseen competitors who have been betting with you.
Har ek friend zaroori hota hai…!
The game is set & we do understand your need for friends and therefore have a feature where you can invite and bet with them. All that it takes for you to do is just click on , 'SEARCH USER', type their name and search for them (Not visible yet on our website?? Make the buggers register!!!), send them requests. Once friends on betmockers, view each other's bets and try to beat the bugger to the ground on 'FRIENDS' feature below your snap. We also understand your need to look your best so upload your best pics too & we are ready to hand you over your virtual money …So why wait, get your friends along too & set the stage on FIRE!!!!!!!!!